My wife Maria and I had the chance to try our hand at being wine journalists, when at the end of May we tasted 192 rosé wines from Provence. The world's leading rosé wine expert Elizabeth Gabay MW and her equally knowledgeable son Ben Bernheim invited us to a tasting at CIVP, the branch organization Conseil Interprofessionnel des Vins de Provence, in Les Arcs. Elizabeth is, among other things, known as the author of the unique books "Understanding the Pink Wine Revolution" from 2018 and "Rosés of Southern France" which came out last year.
In two days, we managed to blindly taste 192 rosé wines mainly from the three major appellations of Provence, a tough job with a lot of spitting and which took a day or so to recover from. Thanks to the spitting, the alcohol meter showed that I could drive without any problems afterwards, so the evening ended with dinner at Elizabeth's family. After the tasting, careful tooth brushing was required as the acid attacked the teeth!
Elizabeth and Ben will publish several articles from the tasting, mainly in Decanter and you can read the entire articles if you sign up for a Premium subscription with Decanter for €15 per month. So far, one article has been published that deals with white, rosé, and red wines from the Cru Classé vineyards of Provence.
Wine review and scoring
For those who want to read reviews of many wines, refer to the Decanter articles, here you will instead find reviews of some "different classes of Provençal rosé wines" and where some of the bests are presented.
Despite the short time, we managed to have some interesting discussions about everything possible about Provence rosé wines, so we learned a lot from Elizabeth and Ben, thank you very much. Furthermore, it was interesting to taste many rosé wines from one appellation and then switch to the next to learn the uniqueness of each appellation.
The reviews from the testing during the first two days were naturally a bit more concise. Elizabeth and Ben then selected the best wines to taste at home at a slower pace and to be able to give more detailed reviews and they were kind enough to let us take over these bottles so we could taste the best wines again. At the same time, we got to see for the first-time which wines it was that we had tasted blindly, we have tasted three of the wines several times before and we managed to score them.
Speaking of points, we use the 20-point scale, while Elizabeth and Ben use the more common 100-point scale in Anglo-Saxon countries, this complicated the comparison of our respective points. Despite that, I got the impression that they scored higher than we did, perhaps because the Provençal rosé wine is more accepted by wine journalists in the Anglo-Saxon countries than in Sweden that I am used to?
Vintage 2022
We were surprised during the first tasting day, when we only tasted wines from Côtes de Provence, that several wines were both light coloured and above all very yellow. One wine deviated greatly, but it turned out to be a white wine! The fact that the rosé wines were light yellow is probably because the summer of 2022 was hot and extremely dry, which may mean that the acid level in the grapes was low. With lower acidity, there is less of the red colour and the wine becomes more yellow, see more in the terroir chapter 8.5 in my Provence wine book. Another consequence for vintage 2022 is that acid has had to be added to many rosé wines.
Despite this, many producers show that 2022 is a good rosé vintage in Provence and it is significantly better than the frost- and in some places fire-affected 2021 vintage.
What is high quality in a rosé wine from Provence?
What we think characterizes a "typical" rosé wine from Provence today is:
Light colour – which does not really say anything about the quality
On the nose it shall be fresh and aromatic with fruits and sometimes flowers

Yellow fruit – peach, citrus, red fruit like raspberry or strawberry, sometimes white flowers, and some spice

The attack in the mouth, that is the very first impression, should be refreshing and aromatic with a palette of fruity notes, balanced to fresh acidity and with both freshness and body
Fresh aftertaste with some body
Extra plus points
What gives extra plus points is a complex aroma with many nuances, a taste with body and concentration and with the feeling of a sweetness from the fruit even though the wine is completely dry. A long aftertaste with some tightness at the end, for example mineral/saltiness/tannins, gives the wine an extra "bite" and makes it more food-friendly.
Then there are some oak-aged rosé wines that are wonderful and where the oak character is barely discernible, i.e., the oak is in a good balance with the fruit. Also, certain grape varieties, and mainly Tibouren, give a different profile to the wine.
Points deduction
On the nose the wine must of course be fresh without hints of any musty tone, but it must not be too artificially fresh. What gives points deductionis an overly strong note of what the experts call thiols, which in the rosé wines manifests itself as a strong grapefruit note and sometimes also notes like Sauvignon blanc from New Zealand. The aroma comes from specially added types of yeast which, together with cold fermentation, enhance these notes. Such wines are sometimes called technological wines, as the characteristics come more from the work in the wine cellar than the quality of the grapes, or "pool wines" to be drunk right by the pool.
Similarly, overly strong notes of banana or English confection can be a sign of aromas coming from the added yeast.
Something that we react strongly to is the character of the aftertaste, some wines first have a pleasant fruity attack in the mouth, but then the aftertaste becomes flavourless and musty. Can perhaps with good will be called herbal.
Even over-oaked rosé wines where the oak dominates so strongly that the fruit can hardly be found do not give plus points.
Domains Ott – a Côtes de Provence classic
One of the pioneers to produce a high-class rosé wine for the international market was Marcel Ott and his family. Already in 1912, the family bought the Château de Selle vineyard outside Taradeau near Draguignan. They have later bought two more vineyards, Clos Mireille in Côtes de Provence la Londe, i.e. near the coast, and Château Romassan in Bandol.
We now had the opportunity to try a rosé wine from each of the vineyards, wines from grapes that come entirely from their own vineyards and wines that in France cost around €35. Our favourite was the wine from Château de Selle, which can be described as a high-class rosé in the fresh Côtes de Provence style.
Château de Selle 2022: Fresh and berry aroma with peach, lime, and a spiciness from anise. Both fruity and fresh attack with good concentration, long aftertaste with minerals and a hint of tannins. 15.5 points.
Château Romassan 2022: Stronger and redder colour. A spicy and darker red berry aroma like strawberries then white peach and a spiciness like anise. Fruity attack with good concentration, long aftertaste with minerals and some tannins. Best wine to accompany a meal of the three. 15 points.
Clos Mireille 2022: A rounder fruity aroma with peach, red berries, and a spice like nutmeg. Fruity attack, balanced acidity and with slightly darker berries than the Selle wine, good concentration, and a touch of sweetness from the fruit. Long aftertaste with saltiness and a hint of tannins. 14.5 points
One wine that was not included in the tasting of the 192 wines was the négociant wine By.Ott , i.e. a wine produced mostly or entirely from purchased grapes and produced in the "new" winery at Château de Selle, the wine is one of the better négociant wines produced in large volume. We bought such a bottle, €16 in the grocery store, to see if there was a difference in quality. In a half-blind test, there were no problems identifying By.Ott and placing the other three in the correct appellations.
By.Ott 2021: A fruity aroma with peach, red berries, and a spiciness but the aroma is not as fresh and had a faint not fresh tone – of cheese? Fruity attack with significantly less concentration, and a shorter aftertaste with a hint of tannins. 13.5 points.
So, for a little more than double the price, you get, compared to By.Ott, a more complex and fresher wine with more concentration and a longer aftertaste.
The rosé wine boom
The fresh rosé wines from Côtes de Provence have become a huge sales success, but sometimes the wines can be very simple and too typical with, for example, a lot of grapefruit character. In the export market, the big giants dominate, read e.g. the blog "From pension fund to multibillionaire" from May where LVMH/Château d'Esclans bought Château du Minuty. The big giants produce up to 8 – 20 million bottles per year and only have vineyards to cover a small part of their production and then for their prestige wines, so several wines are produced from purchased grapes, so-called négociant wines.
I studied the assortment on the shelves of the largest Systembolaget, monopoly, in my hometown Västerås in Sweden and there most of the rosé wines from Provence were négociant wines, then two branded wines where the producer is unknown, two wines from "own grapes" and one wine from a cooperative, so the négociant wines dominate strongly.
It was interesting to learn after the blind tasting of the 192 wines that one of the wines was from one of the larger very well-known producers and that it was their popular négociant wine produced in millions of bottles per year. What was the review, you ask? Both Maria and I gave the wine 12 points, so it was not a wine we went on with for further scrutiny, the judgment was:
Red berries with a slight unfresh aroma, perhaps with sulphur. Taste of dark berries which then turns into a bit flavourless and musty aftertaste. 12 points.
Unfortunately, we have noticed something similar, and sometimes even more clearly, on certain top-selling rosé wines that reach Systembolaget's standard assortment, i.e. with an aroma that is not completely fresh and with an aftertaste that turns into a flavourless and slightly musty taste. But the wines sell well despite that and they often receive good criticism from wine journalists, maybe it is us who have too high quality standards?
When we recently visited the Château Grand Boise restaurant and shop in Côte de Provence Saint Victoire, near Aix-en-Provence, they told us that the neighbouring field outside the shop was harvested by the very company that produces the aforementioned négociant wine. After harvesting, these grapes must then be transported 93 km before they arrive at the winery where the grapes must wait their turn for pressing and further vinification. A not entirely unqualified guess is that such long transport distances, even if refrigeration is used, can negatively affect quality, and increase the need to sulphurise the grapes.
Oaked rosé wines in the "fresh Côtes de Provence style"
It must be willingly admitted that we have not been that fond of oaked rosé wines in the "fresh Côtes de Provence style" as they often have an overly strong oak treatment that masks the fruit. The producer that is today most famous for its oaked rosé wines is Cave/Château d'Esclans who have the wine Garrus for €120 at the top and it is their wine that has a good balance between oak and fruit.
But during the tasting, there were some oak-aged wines where the oak tones were in the background and which were barely distinguishable at first. The wine that we liked by far the best and which was complex, fresh, and elegant was La Tour Saint Honore Sixtine from La Londe (price around €20). Opinion:
Sixtine 2022. Fresh and berry on the nose, with peach, lime, nuts, oak spiciness from new barrels such as from pine trees, and a little anise. On the palate it is fresh with berries and spice and with concentration and just a touch of oak and vanilla. Aftertaste with a touch of tannins. 15.5 points
Half of the wine has been aged in demi-muid barrels, part of the wine has been aged in amphora and part has been in steel tanks for five months on the fine lees, all to give a complex and concentrated wine.
Bandol rosé wines
Bandol has been known for its red wines, that can be aged for a long time, produced from the tough Mourvèdre grape, but now the proportion of rosé wines approaches 80%! For red wines, the proportion of Mourvèdre must be at least half, while for rosé wines it is sufficient that one fifth of the wine is Mourvèdre. In the rosé wines, the Mourvèdre grape contributes redder colour, aromas such as red berries, exotic fruits, citrus fruits and spices, more concentration and body and often tannins.
We tasted four Bandol rosé wines, the aforementioned Ott wine (about €35), Domaine de Terrebrune (about €25) and two vintages of Domaine de la Bégude (about €24). Our favourite was the Ott wine as it both has a Bandol character and maintained freshness, which we like in Provence rosé wines.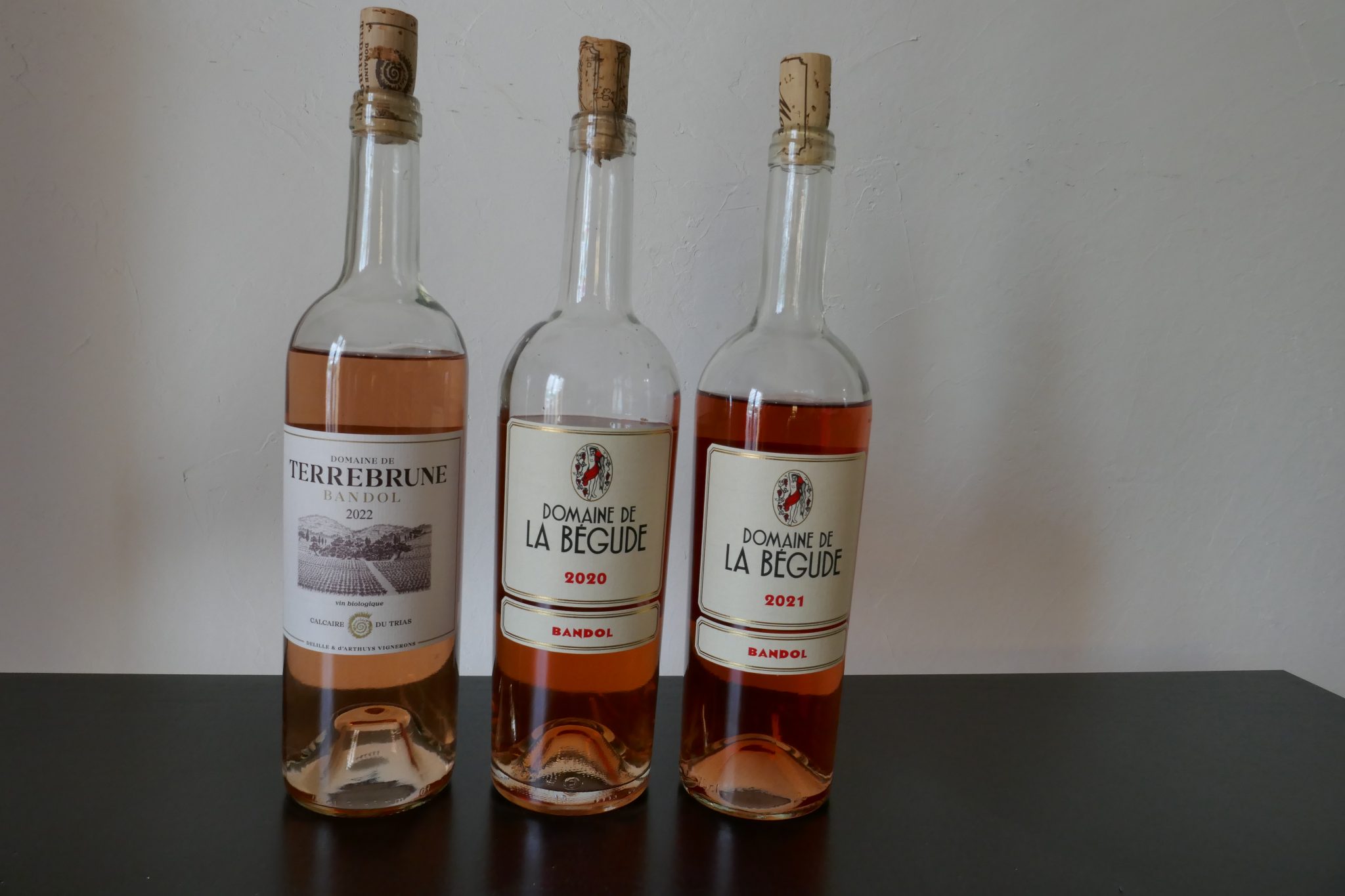 Château Romassan 2022: Stronger and redder colour. A spicy and darker red berry aroma like strawberries then white peach and a spiciness like anise. Fruity attack with good concentration, long aftertaste with minerals and some tannins. 15 points.
Domaine de Terrebrune 2022. More colour like pomelo. A red berry aroma, with orange peel and spice like nutmeg. Fruity attack in the mouth with sweetness from the fruit and a spiciness. Long aftertaste with tannins and saltiness. 14.5 points.
The wine of the four that best describes a good and typical Bandol rosé wine.
Domaine de la Bégude 2021. A strong tangerine colour. A red berry aroma like the juice that can run off strawberries, oranges, rhubarb, and fudge. Fruity taste where the red berries can be found in the long aftertaste. 13 -15 *) points.
Domaine de la Bégude 2020. A stronger redcurrant colour. A red berry aroma like strawberry juice, rhubarb, and a distinct note of fudge. More berry taste than vintage 2021 and in the long aftertaste there are both red berries and fudge. 13 -15 *) points.
*) Since both aroma and taste are very special and perhaps not what many expect from a rosé from Provence and Bandol, we give a score range and where the lower score applies to those who have not tried it before and perhaps do not appreciate the wine either.
Rosé wines with the Tibouren grape
The two Bandol wines from Domaine de la Bégude have a particular character that deviates from the prevailing Côtes de Provence style and in the same way wines with a higher proportion of the Tibouren grape can deviate from that template. The great defender of the grape is Clos Cibonne as the grape was almost completely eradicated after the phylloxera at the end of the 19th century and from only five vines the Cibonne owner family succeeded in multiplying Tibouren so much that during the 1930s they could also give away vines to nearby vineyards.
Today, only the Côtes de Provence Fréjus appellation has requirements for a minimum level for the Tibouren grape and where it must be included with at least 20% in the rosé wine blend.
The grape produces wines with red fruit, apricot, and spices. Like the two Bandol wines from Bégude, wines with a large proportion of the Tibouren grape have a deviant profile and the wine may not be what many expect as it is not like a "standard" Côtes de Provence rosé.
Clos Cibonne wines
What is special about Clos Cibonne, apart from the Tibouren grape, is long aging in barrels that can be 100 years old! Wines tasted, except for the négociant wine Temptations that we can leave there, were the following four which are all produced from 90% of the Tibouren grape and 10% of Grenache:
Rosé Tradition 2021 (approx. €24): Fermented in stainless steel tanks, then aged 12 months on 100-year-old large foudre, 20-year-old vines.
A stronger tangerine colour. An aroma with dried ripe apricot, good oak oxidation, some spiciness and fudge. Balanced acidity, taste of warm dried ripe apricot found in the aftertaste. 14.5 points.
Cuvée Speciale des Vignettes 2021 (approx. €32): Like Tradition but from old vines.
A stronger tangerine colour. Aroma with oak, dried fruit, burnt sugar and a slightly note of fortified wine, acidity on the low side. 14.5 points.
Château Cibonne Cuvée Marius 2019 (approx. €40): Direct pressing and late fermentation in foudres with temperature control. Aged 24 months in foudres and then 1½ – 2 years in bottle before the wine is distributed.
Character like the two before, but we experienced the wine as less fresh. 14.5 points.
Cuvée Prestige Caroline 2021 (approx. €29): Vinified and aged 10 months in 300 litres barrels, old vines.
A stronger tangerine colour. Ripe aroma with red fruit, candied fruit, a slightly note of fortified wine, oxidation spice from the oak. Balanced acidity and the ripe fruit are present in both the taste and the aftertaste. 15.5 points.
Our favourite was the Caroline wine. Previous vintages of the wine have had too strong oak tone, but maybe the barrels used are now older so there is a better balance between fruit and barrel?
Côtes de Provence Fréjus wines
As mentioned before, the rosé wines from this appellation must contain at least 20% of the Tibouren grape, the wines below from Château Paquette and Château du Rouët have 36% and 40% respectively:
Château Paquette, Angelico 2022 (about €12): Melon colour. Aroma of peach, apricot, dark berries, and a spice like anise. Balanced acidity means that the taste was not perceived as fresh as the aroma, taste of berries with a little creaminess, aftertaste with berries which is however a little dry. 13.5 points.
Château du Rouët, Fréjus Hermes 2021 (approx. €22): Stronger pomelo colour. Fruity ripe aroma of ripe strawberry, apricot, orange/Seville orange and pickled apples. Balanced to fresh acidity and a taste of ripe berries and with sweetness from the fruit, long aftertaste with berries. 14.5 points.
Château du Rouët, Fréjus Hermes 2020 (approx. €22): Fruity aroma with ripe strawberry, dried apricot orange/ Seville orange, anise and with sweetness from the fruit. Fruity taste, with sweetness from the fruit, dried fruit, and a little creaminess. In the aftertaste, you find the dried fruit. Even though the wine is a year older than the previous wine, it was perceived as fresher. 15 points.
The Château du Rouët wines had a much clearer Tibouren character. The wines are complex and slightly different Tibouren based rosé wines compared to the standard Provence rosé wines.
---
Surely you have signed up for the Newsletter so that you receive news from the Provence wine world as well as other interesting wine news? If you have already done so, tell your wine-interested friends!
Provence expert Göran Boman, Author of the books "Provence – White, red and also rosé wines" and "The Wines of Provence – Tricolour ".