PROVENCE – WINE BOOK OF THE MONTH
Europe's oldest and France's leading wine magazine "La Revue du Vin de France" designates a "Book of the Month" in each issue. In the September issue 2021 "The Wines of Provence – Tricolour" was named book of the month. In addition to the positive nomination itself, this is extra remarkable because it is the first time that a non-French language book receives this nomination!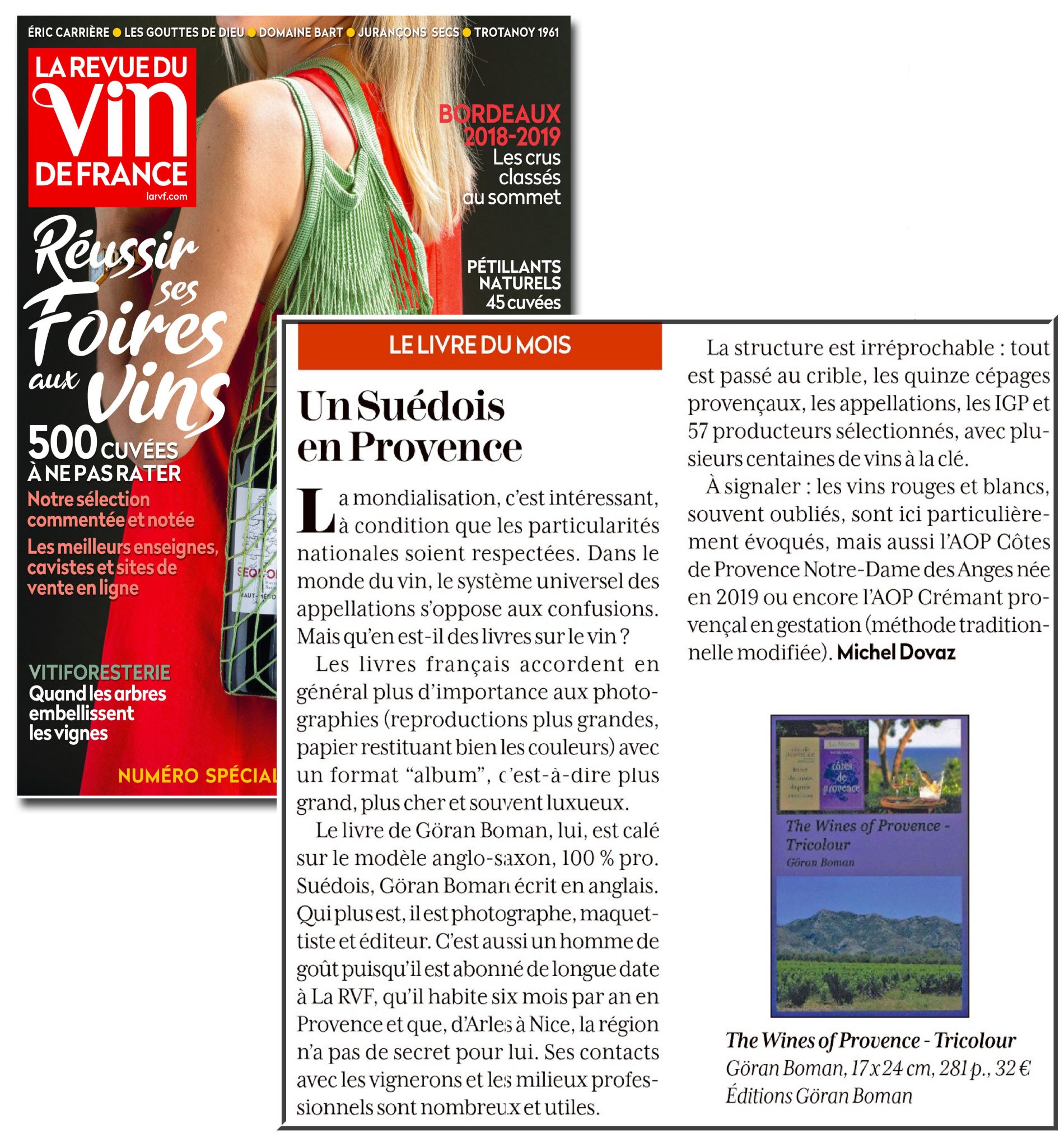 Rationale for the appointment: "…Note! The red and white wines, often forgotten, are especially mentioned here… from Arles to Nice, the region has no secrets for him. His contacts with winegrowers and professionals are many and useful.
The structure is impeccable: everything is examined, the fifteen Provencal grape varieties, the appellations, the IGP areas and 57 selected producers, with several hundred wines to choose from."
BEST WINE BOOK IN THE WORLD 2020
The prestigious international competition Gourmand Awards have in April 2020 honoured the book The Wines of Provence – Tricolour and it can now use the title "Best in the World" in the category "French Wine"!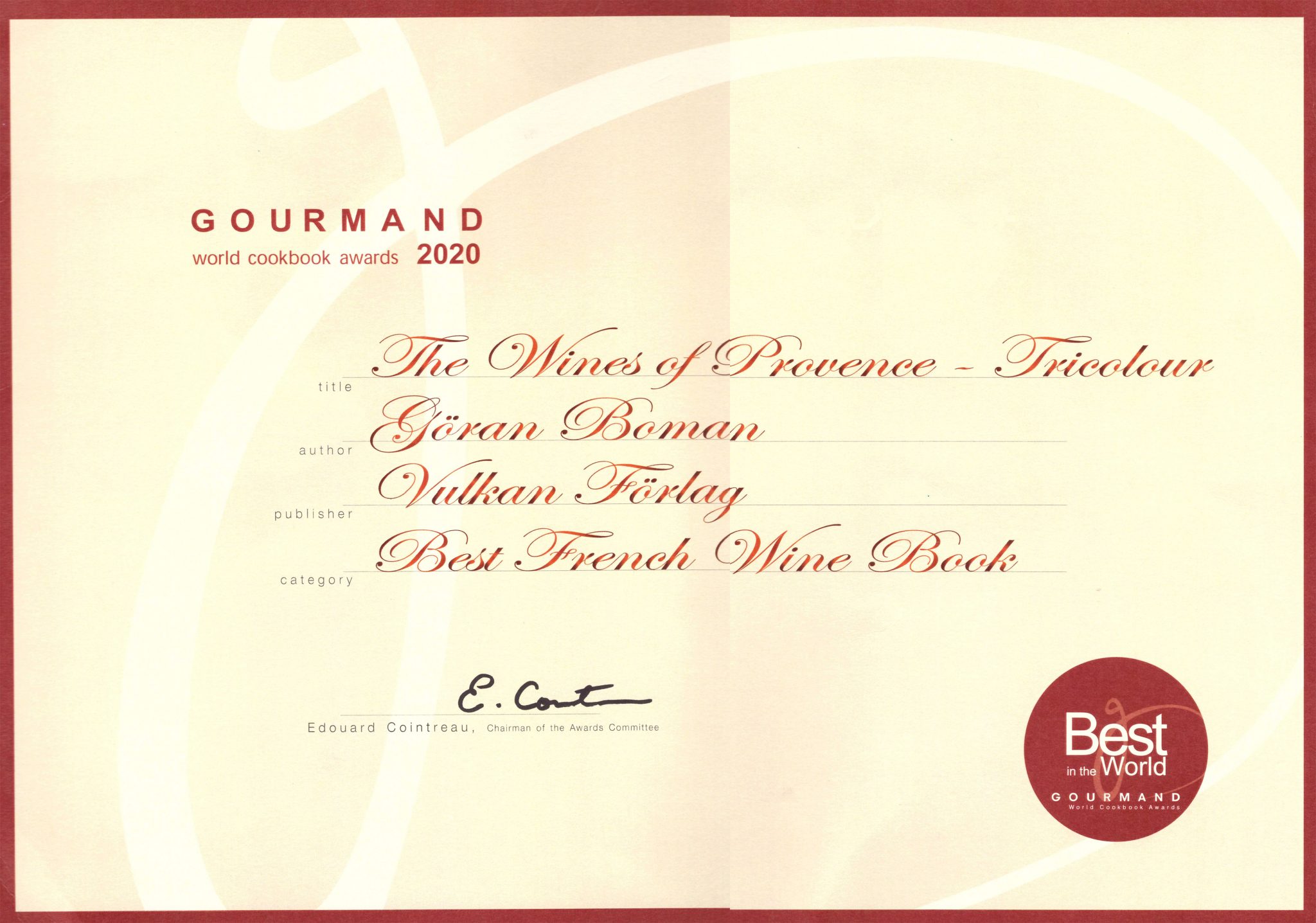 Gourmand World Cookbook Awards was founded in 1995 by Edouard Cointreau, whose ancestor invented the secret orange liqueur recipe, and the Gourmand Awards international jury awards the world's best cook and wine books each year. The competition has been compared to the Oscars award for films and is inspired by the Olympic Games and the spirit of the games.
THE SWEDISH GOURMAND AWARD WINNERS 2019 – CELEBRATION!

The Swedish Gourmand Award Winners 2019 were in late December celebrated in the French Ambassador´s residence in Stockholm. At the celebration, my wife Maria and I were honoured as winner in the "French Wine" category with the book "The Wines of Provence – Tricolour" – see the celebration in the nice video.
Review of "The Wines of Provence – Tricolour:
"Kudos to Göran Boman, Swedish author of The Wines of Provence – Tricolour, for his Gourmand World Cookbook Award — find out more about his impressive book and award in the Wine Snoop Report"
Susan Manfull – Provence Wine Zine
…."In short, a book to get to know the area and its wines. The Provence wine producers and the CIVP can be happy with such a book, in which much is described and explained. An excellent promotion of the rising quality!" …
André Sauerbier – Wineconsultant Provence
"Congratulations, a very precise book."
Gilles DELSUC, Vigneron & Œnologue at Domaine la Blaque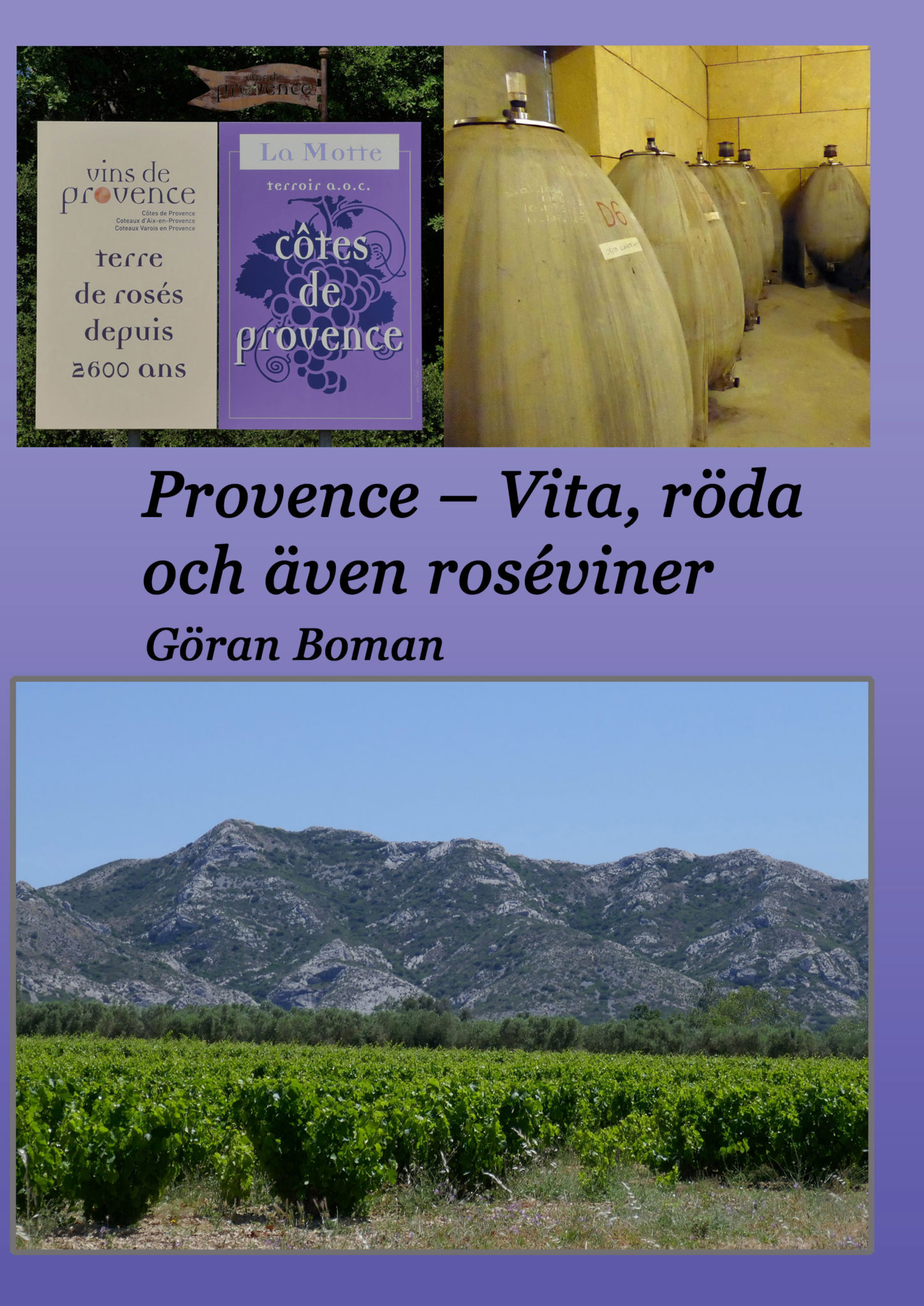 Review of "Provence – Vita, röda och även roséviner":
… "Everything is discussed…. must be classified as a Swedish reference work over the Provençal wine world".
Lars Torstenson, former winemaker at Domaine Rabiega in Provence
… "a book packed with facts. Yet it is not heavy to read, on the contrary."
Ulf Jansson, Editor of the magazine Munskänken
"In short, the book contains most things that may be of interest to the Provence enthusiast. It is not a book just for the rosé fan."
Britt Karlsson, BKWine
Grade 5/5
Elke Jung, Vinbanken