As you already know, the Provence wine region is the leader in France in terms of the percentage of organic vineyard area, and the percentage is increasing and increasing. Since November this year, you can also check where the organic vineyards are in Provence, and the whole of France, so you can now see if your favourite producer's vineyards are organic or not.
Provence has the goal of being 100% organic by 2030 and already in 2023, the appellation "Les Baux de Provence" will be France's first completely organic appellation, see the post from 2021-12-24!  The development in Provence is impressive, tripling in ten years and in 2021 the total percentage of organic land, including those under conversion, was 38% compared to 21% for all of France's wine-growing area.
---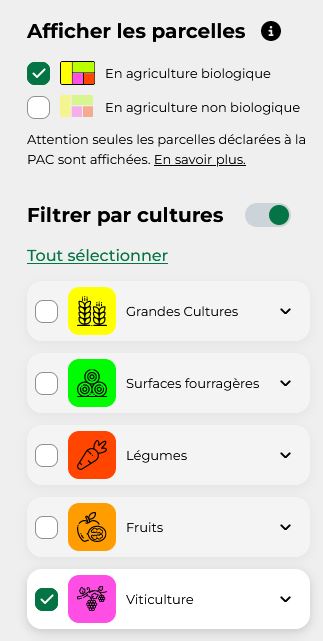 If you want to see where the organic vineyards are in Provence, there is a special open website for that, "To date, 85% of the agricultural areas are represented in this tool", the website specifies". How fortunate that the French like statistics!
If you want to look at your favourite vineyard, go to the website www.agencebio.org/cartobio/ and you will get a map of France. Make sure the green box "En agriculture biologique" is selected and then choose to see viticulture by activating "Filtres par cultures" and select there only the purple "Viticulture". Then zoom into the map "normally" to see your favourite producers in Provence and all other areas of France!