The winery Château d'Esclans in the Esclans valley north of Le Muy has had a strong ownership journey to say the least, thirty years ago the winery was owned by the Swedish Match pension fund, with Lars Torstenson as responsible winemaker, and since 2019 the winery is owned by the world's richest man, Bernard Arnault!
Provence is starting to be like Champagne where large wineries buy in grapes/must to make wine according to their own "recipe", but as in Champagne, you find the most interesting and most affordable wines from the small family-owned producers. The trend of large wineries in Provence has unfortunately accelerated, those interested can read several blog posts about this, search the website under "Wine producers".
Protests
Several of the family-owned wineries are very concerned about the development as it drives up vineyard prices, a threefold increase in 10 years. The increase in prices combined with the cumbersome French inheritance rules make it financially difficult to keep vineyards within the family during inheritance.
So, in typical French fashion, last August they staged a wild illegal protest targeting Château d'Esclans. The action was led by the agricultural union (Confédération Paysanne du Var) and under the supervision of gendarmes and security guards, 300 people harvested a ton of Château d'Esclan's Grenache grapes which were then pressed in front of the Esclans winery.
Sacha Lichine
The journey began in 2006 when Sacha Lichine, originally from Château Prieuré-Lichine in Margaux, bought Château d'Esclans for around 40 million Euros. He invested heavily in the winery, for example with automatic sorting of grapes, cooling of the must and he brought from Bordeaux the technology to store the wines in oak barrels, here in demi-muid barrels of 600 liters and with internal cooling loops. He then had the famous Bordeaux oenologist Patrick Léon to help him.
The goal was to make the world's best, and then most expensive, rosé wine, the oaked wine Garrus, which now has a price tag of €120. The wines then started with the entry-level and famous wine Whispering Angel, which is not oaked, and then continues with four oaked wines with Garrus on top. The winery then also made interesting white and red wines, but they have now disappeared, because now there is a big investment in rosé!
LVMH
Late in 2019, it was announced that LVMH bought a 55% stake in Château d'Esclans. In a joint statement, it was declared that Sacha Lichine will run the estate in partnership with Moët Hennessy and that they plan to expand the vineyard by another 60 hectares. On our visit in February this year, it was confirmed that Sacha was still in charge to assure the quality.
LVMH, Moët Hennessy Louis Vuitton, is a French holding company and one of the world's largest companies in the luxury goods industry. Within the group there are around 60 sub-companies with 75 well-known brands. So, Château d'Esclan's wines are now in the same division as, for example, Château d'Yquem, Cheval Blanc, Krug, and Dom Pérignon! At the top of the company is Bernard Arnault, who is chairman and CEO.
LVMH's investment journey in Provence began already in July 2019 when the 69 ha Château de Galoupet, Provence La Londe, was acquired. From what I can see, Galoupet now only produces rosé wines and at a significantly higher price tag than before.
LVMH – Domaine des Grands Esclans
The journey continues – But LVMH has not been satisfied with only these Provencal investments, they continued in 2020 the expansion by buying the family-owned 40 ha Domaine des Grands Esclans. Of course, the focus is also on rosé wine here, so the undesirable vines were uprooted and replaced with vines for future Château d´Esclan prestige rosé wines!
In connection with the purchase, I spoke to Gwenaëlle De Wulf, who together with her husband owned Domaine du Jas d'Esclans, which is located just south of Château d'Esclans, and she was concerned" Yes, what you heard is true, unfortunately. It is not good for classic domains like us because they want to grow up too fast."
LVMH – Domaine du Jas d'Esclans
The next step on the journey was that from March of this year LVMH also placed the 55-hectare vineyard Domaine du Jas d'Esclans under them, the French inheritance tax, and the fact that none of the children were interested in continued operation meant that the De Wulf family moved to Paris and then with a well-stocked bank account!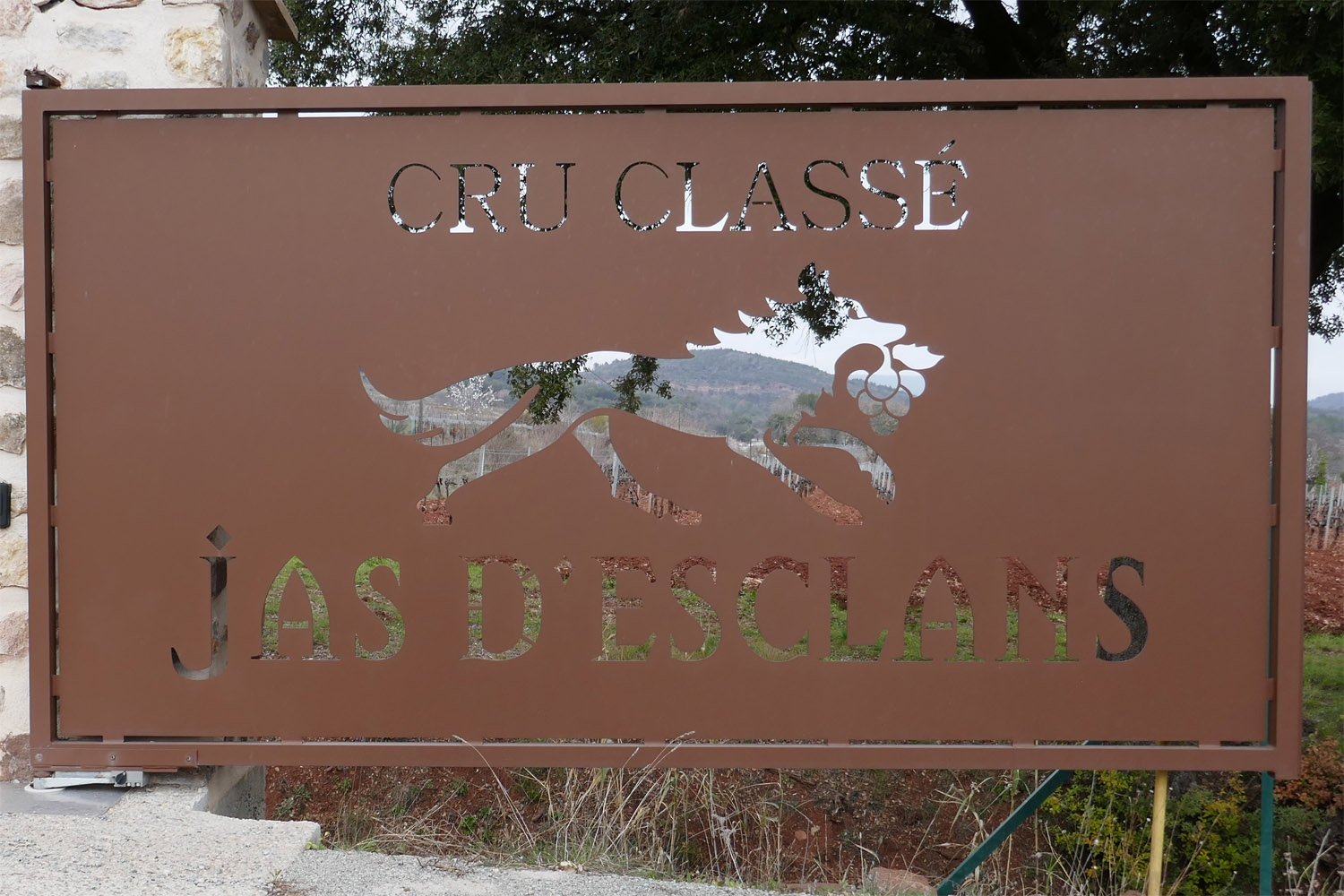 LVMH – Château Minuty
The next step on the journey, perhaps the last for a while, was the acquisition of the very large Château Minuty, with best sellers such as the M de Minuty rosé wine, "located" in Gassin outside Saint-Tropez! The brothers Jean-Etienne and François Matton will continue to run Minuty together with LVMH.
With that purchase, LVMH has become arguably the largest producer of rosé wines in Provence with an annual volume probably exceeding 10, perhaps 15, million bottles per year! Minuty has expanded greatly after the new winery was inaugurated in 2018, the winery is located in the industrial area east of the town of Brignoles where, among other things, the négociant wine M de Minuty is produced.
Through the acquisition, marketing and distribution channels can be coordinated. Let us hope that it will not only be marketing but also a quality increase for the wines.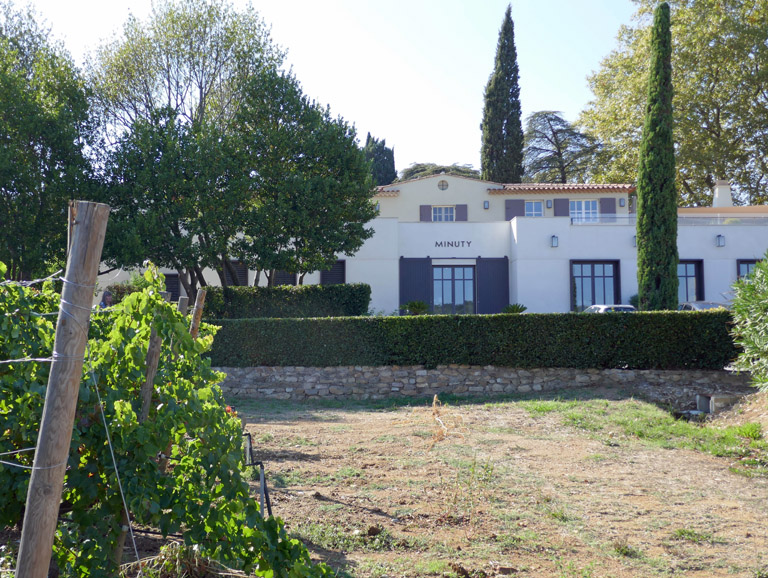 Château d'Esclans – Caves d'Esclans
Wines made from the own grapes, and nowadays from the new acquisitions in the Esclans valley, are sold as Château d'Esclans wines, but to drink such a wine you have to pick a wine a few steps in the wine series to the wine that is called Château d'Esclans (€40).
Wines made from purchased grapes or must are sold as Caves d'Esclans wines and include Whispering Angel and Rock Angel. On our visit in February this year, it was said that the grapes mainly come from own grapes and the rest are purchased, however, I made an estimate five years ago and then they had grapes for twenty-fifth of the production, so I would think that Caves d'Esclan's wines are mainly made from purchased grapes.
Then there are two entry-level wines that are "produced elsewhere", The Pale – Rosé by Sacha Lichine and The Beach – by Whispering Angel.
Caves d'Esclans
Further down in the Esclans valley just a few kilometers north of Le Muy are the industrial buildings "Caves d'Esclans". I asked on my visit if they produced any of the wines there but the buildings were just for bottling and storage. However, they are now expanding and are for example building a sedimentation pond, so a qualified guess is that some production of the "simpler" wines will take place there.
Today's Caves d'Esclans and Château d'Esclans wines
During the visit in February and the "Vins de Provence Expériences" fair, we got to try all their wines and here are some quick reviews.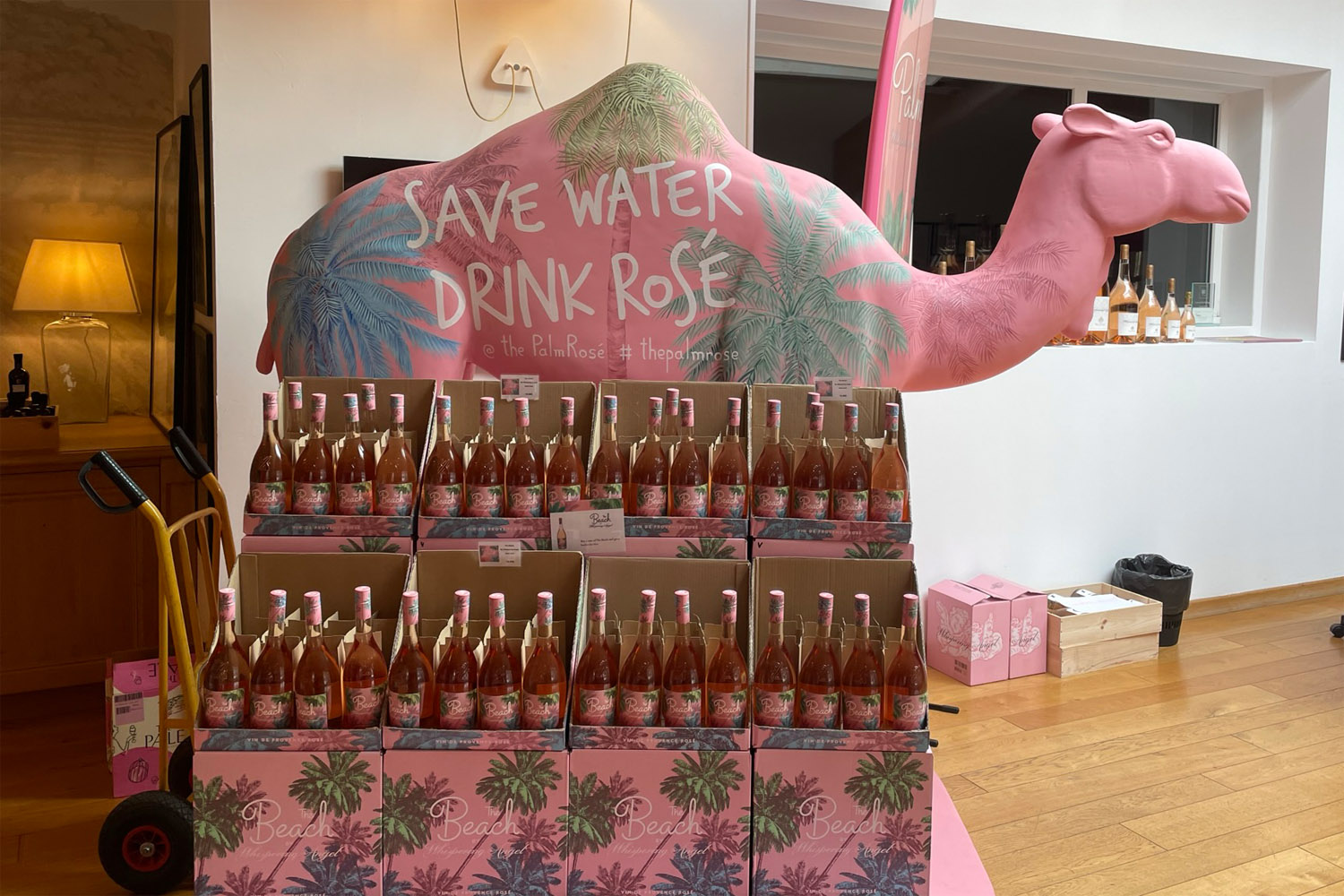 We were not particularly fond of the Pale (€12.9) and The Beach (€16.9) wines, not so fresh or too characterless and at too high prices, so they are not commented on further.
Whispering Angel (€19.95). A blend of Grenache, Cinsault and Rolle, the wine is not aged in oak barrels.
Colour like pomelo. A not so strong berry aroma, red berries, peach, and a hint of spice like anise. Fresh wine with a fruity attack and with a slightly tight finish with some pleasant bitterness. A good rosé wine in the standard Provence style.
Rock Angel (€29.9). A blend of Grenache, Rolle and Cinsault, half of the wine has been aged in oak barrels and half in stainless steel tanks.
Compared to Whispering Angel, a more vinous wine, with a subtle nose of oak and some vanilla, furthermore some red berries, peach, and some white flowers. More body, with balanced acidity, some oak flavor and tannins from barrel ageing. As with previous tastings, this is, apart from Garrus, our favourite in the range.
We also bought a bottle home and tasted it together with other rosé wines from Provence and then we felt that there was too much oak character.
Château d'Esclans (€39.9) A blend of Grenache and Rolle, 50% of the wine is aged for 8 months in 600-liter demi-muid oak barrels.
A subtle nose with oak, vanilla, peach, and red berries. Fresh acidity, more body than the previous wines, the taste as well as the aftertaste is oak-dominated. In our taste, too much oak character.
Les Clans (€69.9). The same grape blend as Château d'Esclans but here 100% of the wine has been vinified and aged for 10 months in 600-liter demi-muid oak barrels.
Here, too, the nose is oak-dominated with vanilla and with fruit such as peach. Fresh acidity, slightly more body than Château d'Esclans, the taste as well as the aftertaste is oak-dominated. For our taste, a slightly too much oak character.
Garrus (€120). A mixture of Grenache and Rolle, but the grapes come exclusively from the oldest around 80-year-old Grenache vines and it is the free-run must that is vinified. 100% of the wine is aged for 11 months in 600-liter demi-muid oak barrels.
The wine is reminiscent of a strong white wine and with a light color. Nose with peach, oak, vanilla, and some spice from the oak ageing. Fresh acidity and more body than Les Clans, some creaminess and at the end you can feel some tannins. The wine has a good balance in both aroma and taste between fruit and oak, perhaps because the must from the older vines is more concentrated.
---
Surely you have signed up for the Newsletter so that you receive news from the Provence wine world as well as other interesting wine news? If you have already done so, tell your wine-interested friends!
Provence expert Göran Boman, Author of the books "Provence – Vita, röda och även roséviner" and "The Wines of Provence – Tricolour".