If you are lucky enough to be in Provence in May and early June, there are several wine activities you must not miss, a rosé wine festival and three wine walks!
---
Rosé wine festival Just'Rosé – Saturday 6 – Monday 8 May
The Just'Rosé festival is held in the port of Sanary-sur-Mer, six kilometres south-east of the town of Bandol, but here you must hurry because the festival starts already on Saturday 6 May and runs until Monday 8 May. You will meet 70 winemakers from all over Provence and you will definitely not be able to taste all the rosé wines as there are a total of 300 to taste!
The festival was last held in 2019 but has naturally taken a break for a few years, but now it is back and maybe now there will be even more participants than last time when 80,000 participated!
Sanary will be dressed out in pink and, in addition to wine, you will be treated to entertainment and when you get hungry, outdoor seating will be arranged where you can taste plates with tastings together with your favourite rosé wine.
More information and ticket purchases for the 8th Just'Rosé festival can be found here: www.just-rose.com
---
Wine Walks
An excellent opportunity to visit vineyards and wine fields is to participate in one of the wine walks, a walk of a few kilometres where along the way there are stations where you can try the wines of the appellation and usually together with tastings prepared by the area's chefs. We have been on two such walks at Domaine de la Begude in Bandol and it is something we do not want to miss!
---
Les Balades Gourmandes par les Vignerons des Côtes de Provence Pierrefeu – Sunday 21 May
As the long name suggests, this wine walk takes place in the Côtes de Provence sub-appellation of Pierrefeu, the 6 km long walk starts from Château de la Gordonne just west of the village of Pierrefeu-du Var.
You will taste the producers' finest red and rosé wines from Côtes de Provence Pierrefeu as well as their white Côtes de Provence wines. Pascal Barandoni, chef at Mas du Lingousto in nearby Cuers, is responsible for the gastronomic Mediterranean-influenced menu, and he has students from the Anne-Sophie Pic hotel school to help him.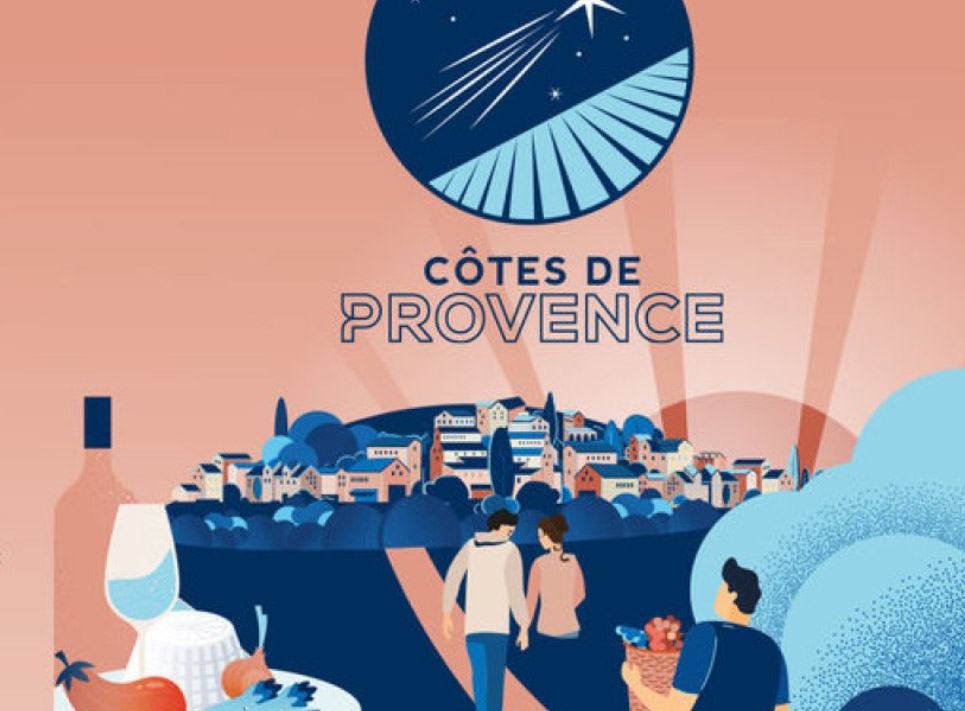 When you are not hungry anymore and satisfied, you can enjoy music and other entertainment, surprises from the wine producers of Pierrefeu are also promised.
More information about the 13th wine walk in Pierrefeu and ticket purchase can be found here: https://www.mpmtourisme.com/fete-manifestation/13eme-edition-balades-gourmandes-chateau-gordonne
---
Sur les Chemins des Anges – Saturday 10 June
It will now be the second time that the event "Sur les Chemins des Anges" is held, a 2.7 km walk at dusk, through vineyards and forests, to discover the terroir of the newest (2019) appellation in Provence, Côtes de Provence Notre – Dame des Anges. The walk starts from the Château Réal d'Or vineyard about four kilometres east of the village of Gonfaron.
Along the route there are stations where you can learn about wine tasting, geology, the vine's annual cycle, etc. You will meet wine producers from Côtes de Provence Notre-Dame des Anges and get to taste their wines and at the Château you can then buy food from Foodtrucks where you will also be treated to music.
More information about the Notre-Dame des Anges wine walk and ticket purchase can be found here: www.cotesdeprovence-notredamedesanges.com/surlescheminsdesanges
---
Les Escapades des Vins de Bandol – Friday 9 – Sunday 11 June
The walk is now organized for the 11th time and this year's host is the Domaine de la Garenne just south of the village of Cadière-d'Azur in Bandol. During an easily accessible walk in the vineyards of around 5 kilometres, you will meet the wine producers, enjoy gastronomic dishes, and taste Bandol's best vintages.
You are offered five gastronomic stops, with 3 or 4 wine producers present at each of them. As it should be in France, the five stops are: first appetizer then entree, main course, cheese and finally dessert and you can look forward to, if you can manage, trying some thirty Bandol wines!
More information about the Les Escapades des Vins de Bandol wine walk and ticket purchases can be found here: https://escapades-vins.com/
---
Surely you have signed up for the Newsletter so that you receive news from the Provence wine world as well as other interesting wine news? If you have already done so, tell your wine-interested friends!
Provence expert Göran Boman, Author of the books "Provence – Vita, röda och även roséviner" and "The Wines of Provence – Tricolour".